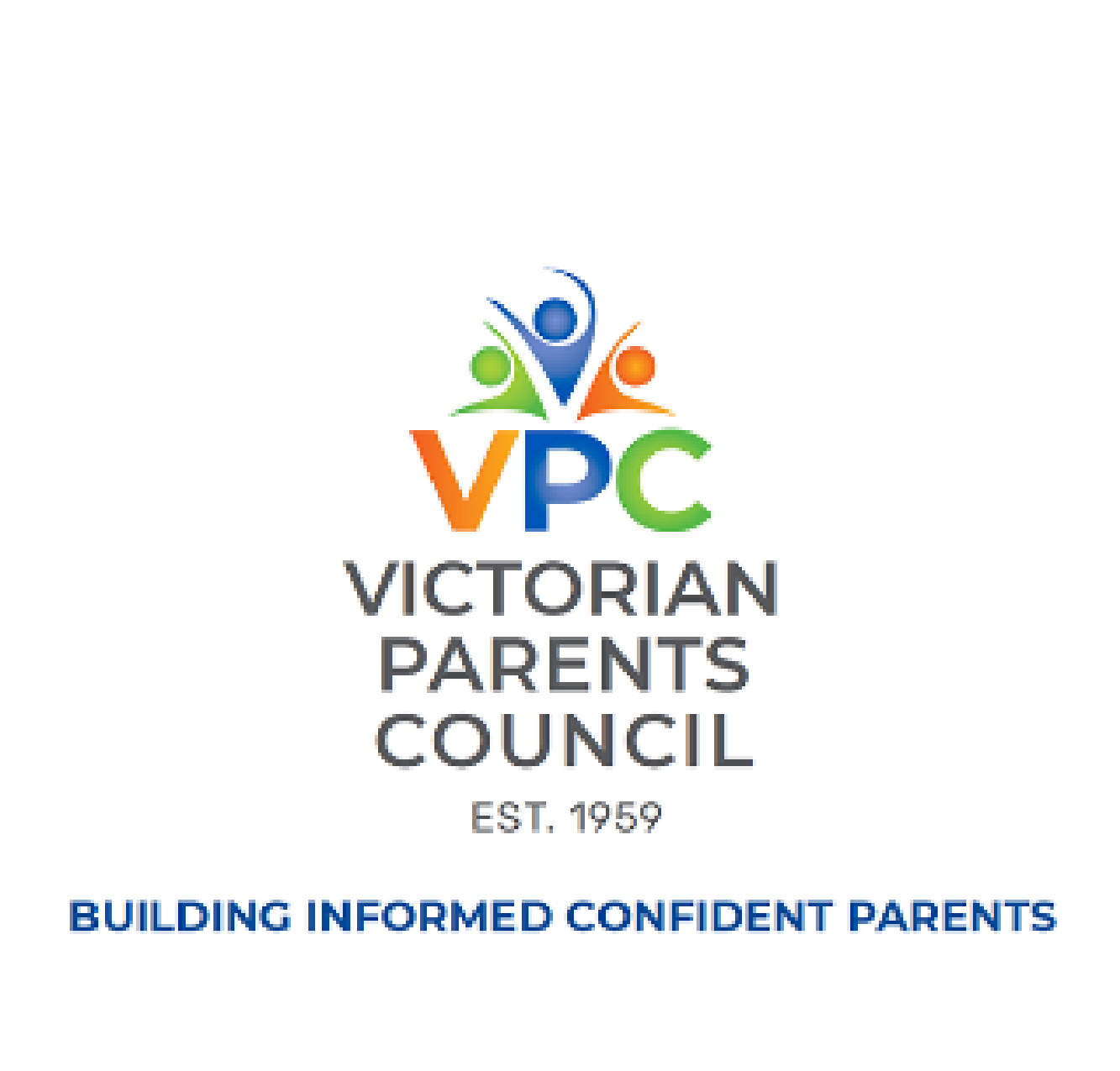 More than 60 years now, VPC has worked tirelessly with Victorian school parents. That we are still here today is a testament to the hard work and support of parents, schools and parent associations across Victoria.
We are a not-for-profit, ACNC registered Charity Organisation and are driven by the commitment of a small group of volunteers.
You can be involved as a parent, guardian, school, teacher or business; we love to collaborate with all those who are passionate about supporting children through education, from babies through to adulthood and beyond.
If you like to join, don't hesitate to contact us at [email protected]
Whether it's once a week or once in a while, we welcome your involvement.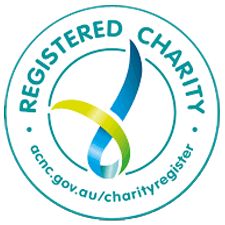 VPC is a registered charity dedicated to everyone who support Parents in educating their children
---
VPC E-NEWS NOVEMBER 2022
We are in the "business end" of Term 4 with end of year assessments and the summer holidays are on the horizon. VPC is still very busy advocating for and supporting parents.

Over the past few months, the VPC has been fortunate to be working with students from Macquarie University looking at the increasing numbers of parents taking on the role of homeschooling. As part of their work with us, the students have created a survey and we are encouraging all parents to take part. As we have all had an insight into learning from home, we are keen to hear your views on homeschooling as well. Link to Survey.

During the year VPC runs the #VPCLive series, our events are recorded and made available on demand as well. One of the most popular #VPCLive events was the one outlining the upcoming changes to the VCE. Here is the link for some current VPC On-Demand sessions you might be interested in catching up on the VPC website event page.

Check out the VPC blogs.
The latest one is on ​​The Link Between Parent and Child Mental Health.
We also have blog updates from the VRQA about the Child Safe Standards.

Save the date: Safer Internet Day on Tuesday, 7 February 2023.

In 2023 we will continue to offer #VPCLive online events covering various topics
If you would like a topic or be a guest speaker at one these events kindly contact the VPC
We are working on website updates so we can offer a VPC library of live events to VPC members.

VPC is a volunteer non-profit charity organisation and we are always looking for volunteers willing to share their talent. Please consider an active role at the VPC, all are welcome.

Sincerely,

Eveline Jona,VPC President
vicparentscouncil.vic.edu.au
Victorian Parents Council Inc – The Vibrant Parent Community Est. 1959
---
Transition to VCE – Workshop
Start the way you intend to finish.
Attention!
Calling all True Coaching, Dianna Daou Fans!
If you have attended Dianna's Study Coach presentations in our #VPCLive online events you are going to love this!
Dianna will be live and in person on
Saturday, 19 November 2022,
10:45 am–2:30 pm AEDT.

Join us for the "Transition to VCE workshop" Register here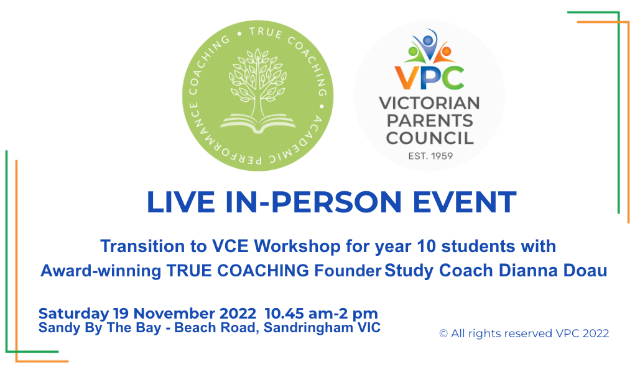 ---
Understanding the changes to VCE and VCAL Victoria's senior secondary education is changing. From 2023, the new VCE Vocational Major and Victorian Pathways Certificate will replace the current VCAL program. Students will have more education choices, a higher-quality curriculum and better workplace experiences – preparing them for further study, training at TAFE or work. Whatever your child's talent, they can now pursue it under one VCE. The Victorian Parents Council is partnering with the Victorian Curriculum and Assessment Authority and the Department of Education and Training to help you understand what these changes mean for your child's educational experience, including:
● the upcoming changes to VCE
● how best to keep you informed going forward.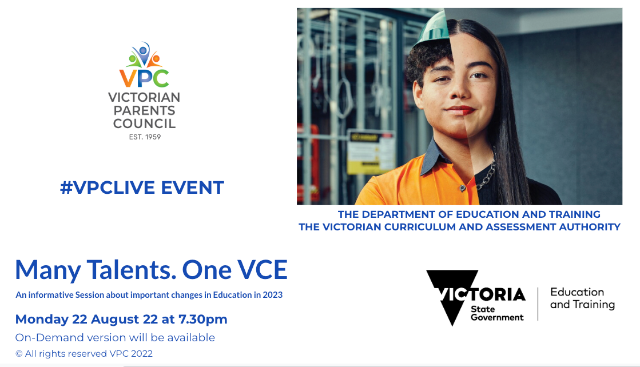 ---
---
DET – Department of Education and Training
Many Talents. One VCE
Whatever your child's talent, they can pursue it under the new VCE. From next year, the VCE will include the VCE Vocational Major replacing VCAL
Many Talents. One VCE– Q and A
This overview provides answers to 22 sample questions about the changes.
These sample questions and answers will help to:
– understand the topics of interest to parents and students
– prepare for and answer real questions from parents and students.
VRQA – Victorian Registration and Qualifications Authority
Blog about the Child Safe Standards
VIT – Victorian Institute of Teaching
What does it mean to be a Teacher
Educators be part of breakthrough research!The VPC is fortunate to have the opportunity to include our community in a variety of research.
PremmieEd is a study seeking to understand the experience and knowledge of teachers on the developmental and educational outcomes of children born preterm. It also aims to capture teacher's views on whether teacher training and support is needed to assist children born preterm in classrooms. As such, our target audience is early childhood and primary and secondary school teachers. For more information click here.
The next Safer Internet Day on Tuesday, 7 February 2023 will mark 20 years of celebrating the initiative worldwide.

Join the global initiative that brings together community, families, schools and organisations from more than 200 countries to help create safer online spaces.

Sign up to support Safer Internet Day 2023 to stay up to date with all the latest information. You will be informed about ways to get involved and you will know when campaign resources are ready for you to download.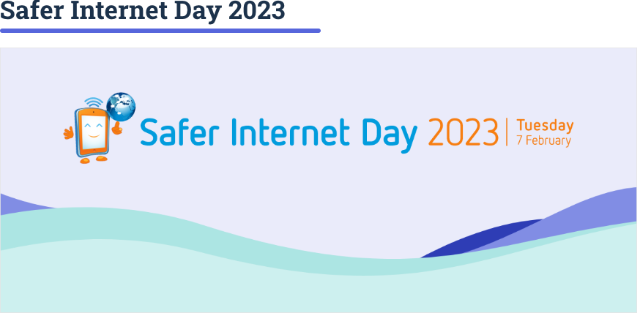 ---
VPC is diverse, inclusive, and independent.
We welcome you all to joining us.
---

We acknowledge the Traditional Owners of country throughout Australia and recognise their continuing connection to land, waters and culture. We pay our respects to their Elders past, present and emerging.