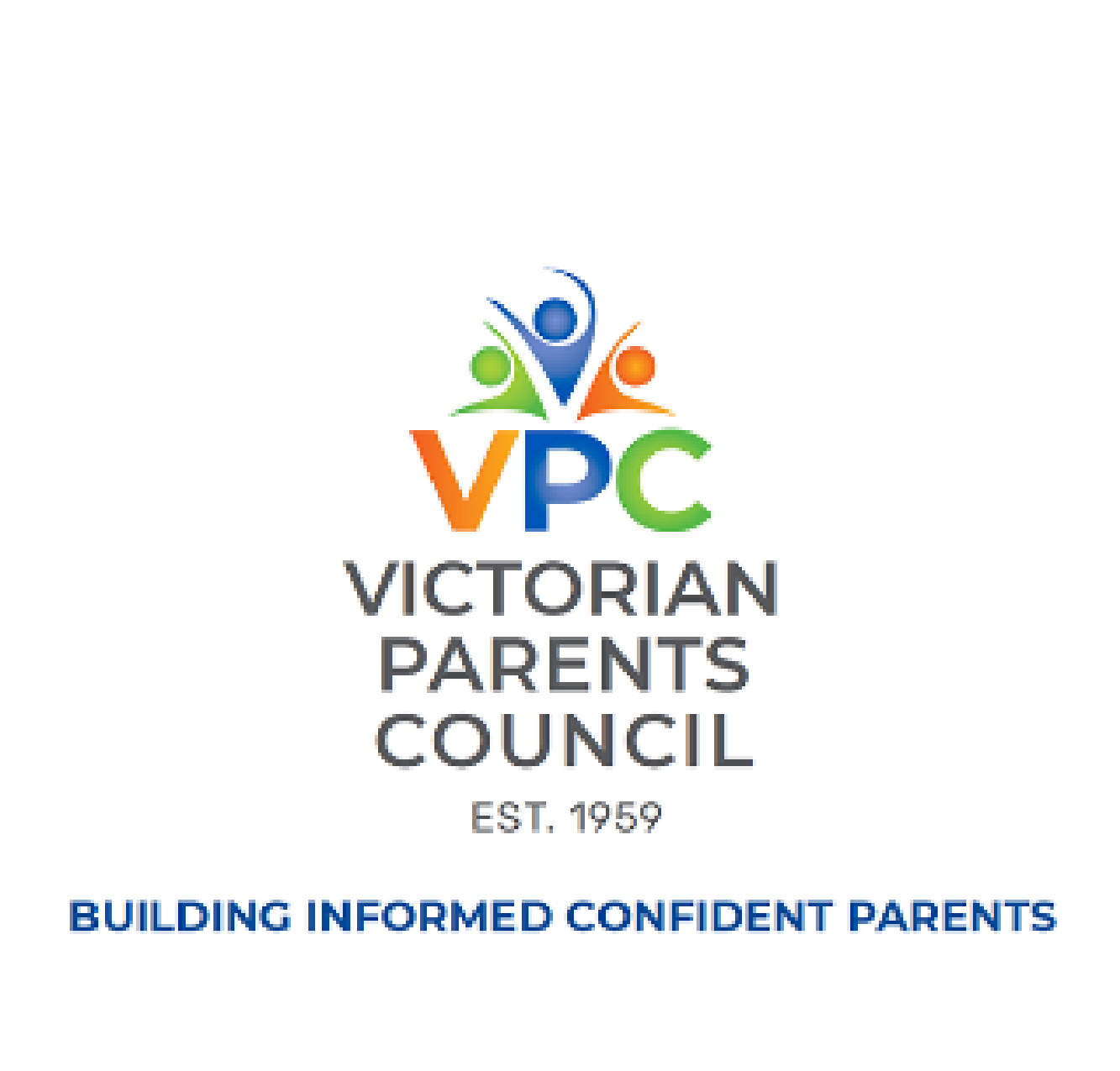 More than 60 years now, VPC has worked tirelessly with Victorian school parents. That we are still here today is a testament to the hard work and support of parents, schools and parent associations across Victoria.
We are a not-for-profit, ACNC registered Charity Organisation and are driven by the commitment of a small group of volunteers.
You can be involved as a parent, guardian, school, teacher or business; we love to collaborate with all those who are passionate about supporting children through education, from babies through to adulthood and beyond.
If you like to join, don't hesitate to contact us at [email protected]
Whether it's once a week or once in a while, we welcome your involvement.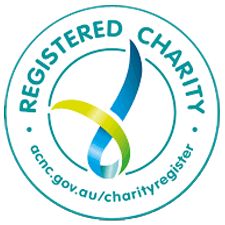 VPC is a registered charity dedicated to everyone who support Parents in educating their children
---
Dear VPC Community

Where has Term 4 gone!

Life with COVID continues, meanwhile schools opened up again and children were once again back to face to face learning for the most part of Term 4. VPC is here to support parents with the best information we can to help you support your children through what, for many, has been some very trying times. In this newsletter, there are links to Martine Oglethorpe's VPC blogs. She provides some practical advice on post lockdown strategies when it comes to screen time.

RESEARCH
VPC proactively seeks out research opportunities that will benefit our membership and parents. We are proud to be community partners in the following research:
● VPC, as a community partner for the CLASS-research project at the Turner Institute at Monash University, supported recruitment for this project earlier this year. Year 7 students were invited to participate. Recruitment has now closed. We will invite the researchers who presented earlier this year on #VPCLive, back to share the results of the CLASS-research project once available.
● VPC is a community partner for an Australia-wide study being run through the School of Social Marketing at Griffith University. The project is researching the changes in resilience and wellbeing post-pandemic. This research aims to understand the current levels of resilience in the general adult population in Australia. To find out more go to: griffith.resiliencereport.com/

VPC BLOG
The VPC website now has its own Blog section on the website, which allows us to feature the insights of leading specialists.
We are delighted to have Martine Oglethorpe back as our expert contributor – take a look!
Some of the following topics have been explored through expert articles by Martine Oglethorpe on the VPC website and are promoted via our social media as well.
● What COVID Lockdowns Have Taught Us About Screen Time
● More Green, Less Screen
● Weaning the Screens

If there are any topics you would like the VPC to address, please contact us directly, we love to hear from you! If you would like to be a guest blogger, we welcome you to share your expertise with us! Please contact us at [email protected] to discuss your participation.

SHARE WITH US YOUR SKILLS
As the VPC is expanding and growing, we are actively reaching out and looking to welcome you to take part in our work. We are looking for people with various skill-sets to join the VPC Community and be part of the growing VPC advisory and support team. Please share some of your time and talent and become more personally engaged with the VPC; we welcome you all.

YOU ARE – WE ARE, THE VPC COMMUNITY
Growing into what is now known as the Vibrant VPC Community, online and offline, does not happen overnight. The VPC had to change and adapt, update technologies and go digital, developing new resources throughout the years. This is only possible with the contribution of so many of you, that we have grown and changed. We have achieved this together.
THANK YOU
As we come closer to the end of 2021 year, the VPC would like to thank the many people who have assisted us over the years, and some new enthusiastic parents and educators. Thank you for your support. You are all important and collectively you are – YOU ARE – WE ARE, THE VPC COMMUNITY

Wishing you and your families a well-deserved holiday break. The VPC is looking forward to working with many of you again in 2022.

Sincerely

Eveline Jona, VPC President
vicparentscouncil.vic.edu.au
Victorian Parents Council – The Vibrant Parent Community Est. 1959
---
#VPCLive Event – On demand – free event; registration required.
Parenting during the pandemic:
Tips for parents of teenagers to protect their teen's mental health
As we get ready for the summer holiday break, take some time to catch the last #VPCLive event with Dr Mairead Cardamone-Breen. More than ever, teenagers need their parents' support to learn how to navigate the 'new normal' and protect their mental health. Dr. Cardamone-Breen's no-nonsense practical advice, assists parents and young people who are confronting challenges they've never faced before.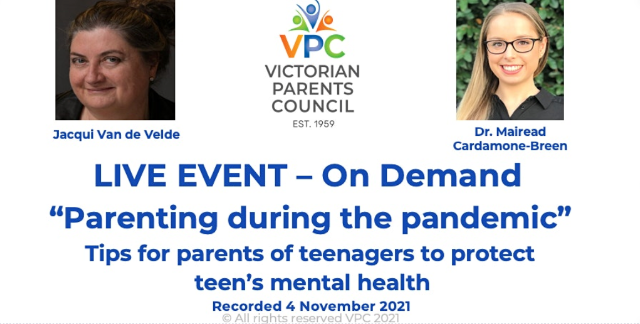 ---
#VPCLive Events 2021 Review

Many #VPCLive Events occurred during 2021.
We started with Michelle Mitchell and Puberty, followed by 4 events in our "All About Sleep Series" with Dr Julia Stone, Dr Bei Bei, and Lisa Maltman.
Our next returning guest Maggie Dent presented "About Nature Play", and why that is so important.
Dianna Daou followed with 2 sessions related to exam time – "A Roadmap for Exams" and "Exam Day".
Our last VPCLive Event 2021 is about "Teenage Mental Health and the Pandemic" with guest Dr Mairead Cardamone-Breen.
SPECIAL THANKS
To the Department of Education, especially Marion Frere and Serah Richardson, for supporting and valuing VPC's work. We look forward to continuing to work with the Department and the new team members Jill Kidd, Larry Price and James Howe to benefit the parents, carers and educators we serve.
To VPC lifelong member Dr Margaret Salter, for her many years of honorary auditing; we are not only thankful for her financial expertise, guidance and support, but also for her wise advice and valuable recommendations throughout the years.
Another Thank You to Martine Oglethorpe, Committee Member and VPC blog-expert contributor, for sharing expert subject matter articles for the VPC.
To our more than 25000 followers across our social media channels!
To all attendees the #VPCLive events, for your support, engagement and feedback.
The amazing VPC Board Members for their ongoing genuine commitment and support; there are many individuals who are supporting the VPC, to name a few: Simone Wright, Kintara Philips and Yildiz Samci.
Thank you to all our #VPCLive guest speakers 2021: Michelle Mitchell, Dr Julia Stone, Dr Bei Bei, Lisa Maltman, Maggie Dent, Dianna Daou and Dr Mairead Cardamone-Breen.
To Kate Curry from InChargebox, for her special donation as a sponsor of the VPC.
Lastly VPC team members Emma Sidney, Jacqui Van de Velde, Jerry Penny and Ashley Johnson with the team from Agile for working regularly with the VPC; thank you for their expertise, patience and ongoing support toward the VPC Community.
---
VPC Community Updates
E-SAFETY COMMISSIONER
Safer Internet Day 2022 – PLAY IT SAFE AND FAIR ONLINE

Join the global initiative that brings families, schools, organisations and governments from 170 countries together to raise awareness about online safety.
There is no place for online abuse. We can all help to make life online enjoyable by being kind and respectful to each other.

Sign up to support Safer Internet Day. Together, we can all #PlayitFairOnline. Sign up now.
---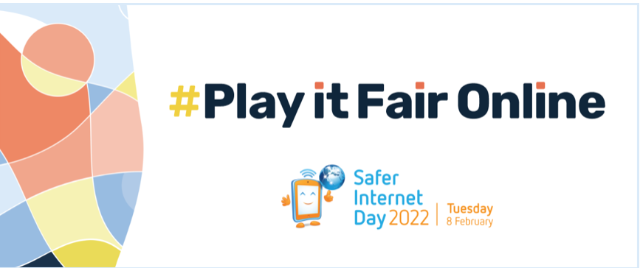 VRQA – Victorian Registration and Qualifications Authority
The VRQA have recently published a School Intervention Framework that sets out how they make decisions about what action to take to ensure the safety of children in Victorian schools.

Each year the VRQA commission research to better understand their clients and stakeholders. The VRQA 2021 Client and Stakeholder Research that will soon be in-field and gives education providers the opportunity to help shape the VRQA's regulatory services.


VIT – Victorian Institute of Teaching
Registered teachers are required to complete annual registration tasks by 30 September each year, including making declarations about their suitability to teach, in order to maintain their registration. Over 95% of teachers completed their registration tasks on time. The majority of these applications have already been assessed and their teachers' registrations have been renewed for 2022.

2020-21 VIT Annual Report
The 2020-21 period has been a year of extraordinary achievement for VIT, despite the ongoing challenges faced by the coronavirus pandemic (COVID-19). In addition to an overarching function to provide for the safety and wellbeing of children, VIT has been further supported by new legislation which embeds its role in teaching excellence. Through the delivery of its statutory functions, VIT has been consistently implementing its vision for all Victorian children and young people to have the best teachers.

VIT Regulatory Decision
Read about a regulatory decision made by VIT in relation to teacher conduct.

The VIT designed a series of case studies to assist teachers to reflect on their conduct as part of the rollout of the revised Code. This recent case study is regarding a teacher's comments and their effect on a learner.

VCAA – Victorian Curriculum Assessment Authority
Senior Secondary Certificate Reform
Victoria's senior secondary certificate reforms will embed vocational and applied learning pathways in the VCE
To learn more about the senior secondary pathway reforms; VCE Vocational Major and Victorian Pathways Certificate
Please visit the Department of Education and Training website.
---
VPC is diverse, inclusive, and independent.
We welcome you all to joining us.
---

We acknowledge the Traditional Owners of country throughout Australia and recognise their continuing connection to land, waters and culture. We pay our respects to their Elders past, present and emerging.