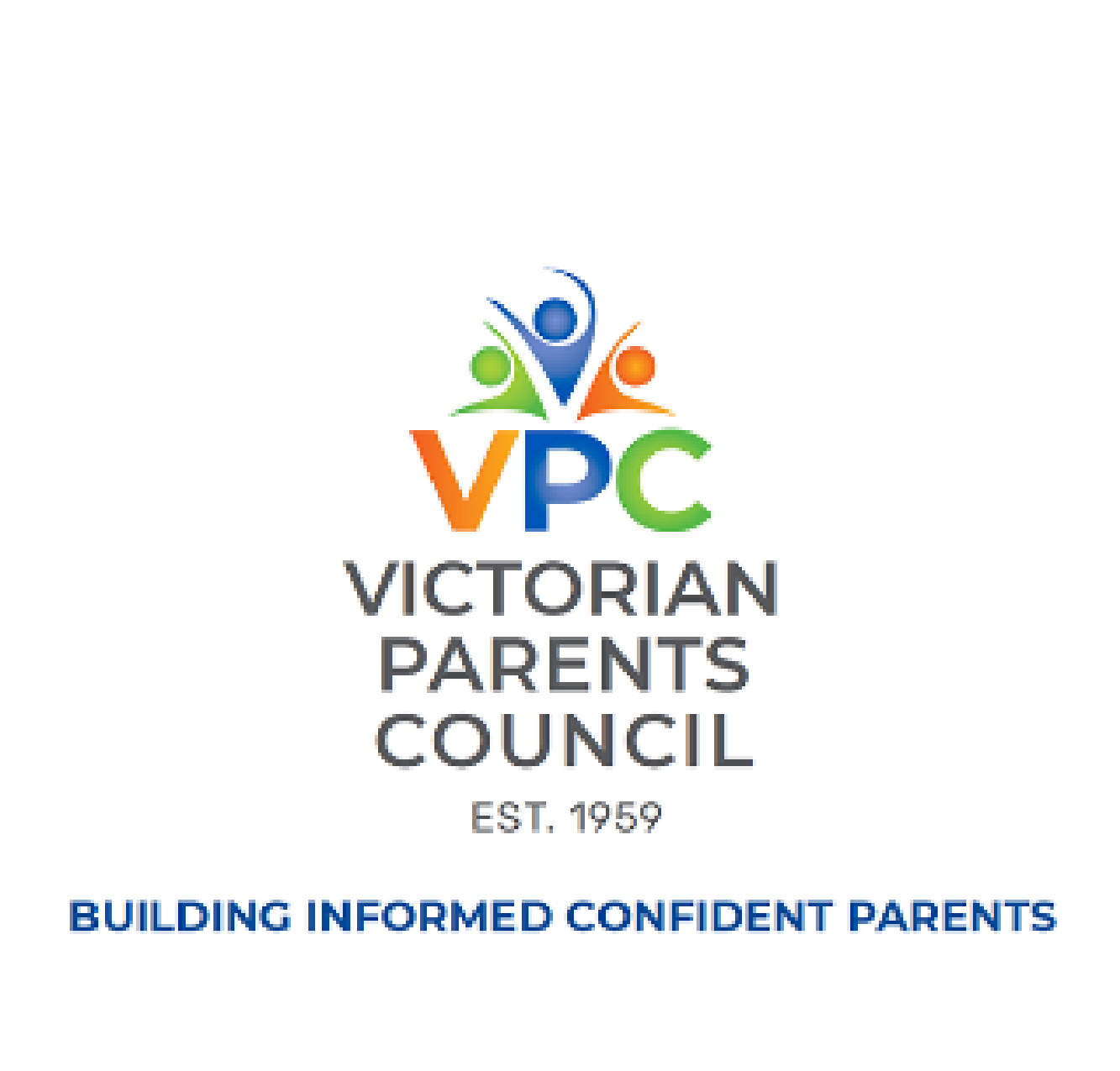 More than 60 years now, VPC has worked tirelessly with Victorian school parents. That we are still here today is a testament to the hard work and support of parents, schools and parent associations across Victoria.
We are a not-for-profit, ACNC registered Charity Organisation and are driven by the commitment of a small group of volunteers.
You can be involved as a parent, guardian, school, teacher or business; we love to collaborate with all those who are passionate about supporting children through education, from babies through to adulthood and beyond.
If you like to join, don't hesitate to contact us at [email protected]
Whether it's once a week or once in a while, we welcome your involvement.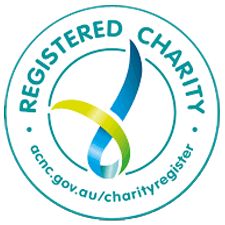 VPC is a registered charity dedicated to everyone who support Parents in educating their children
---
VPC E-NEWS August 2022


Dear VPC Community
Welcome to the Term 3 VPC E-News!
The focus of our activity is to bring you the most up to date information, events, speakers and blogs to help you stay on top of what's new and useful.

Of interest for parents and educators, are the new Child Safe Standards which came into effect from 1 July, 2022

Upcoming #VPCLive Events, more details belowBoosting Teen Mindset, 8pm AEST on Thursday, 18 August 2022 with Claire Eaton.

Understand the changes to VCE and VCAL, 7.30pm AEST on Monday, 22 August 2022 with Dr Kelly Jarvis.
Creating a Roadmap For VCE Exams, 7.30pm AEST on Thursday, 8 September 2022 with Dianna Daou.

Share with us your skills
We are always looking for more parents and educators to join us. If you have a particular interest, topic skill set please contact us and share your talents with our membership.

Sincerely
Eveline Jona, VPC President
vicparentscouncil.vic.edu.au
Victorian Parents Council Inc – The Vibrant Parent Community Est. 1959
---
8pm AEST Thursday, 18 August 2022 with Claire Eaton.
Claire Eaton is a national speaker, youth coach and author of 4 books and audio Pep Talk program for teens.
Claire will be discussing practical tools and tips teenagers need to own their mindset and feel more confident during the highs and lows of high school and adolescence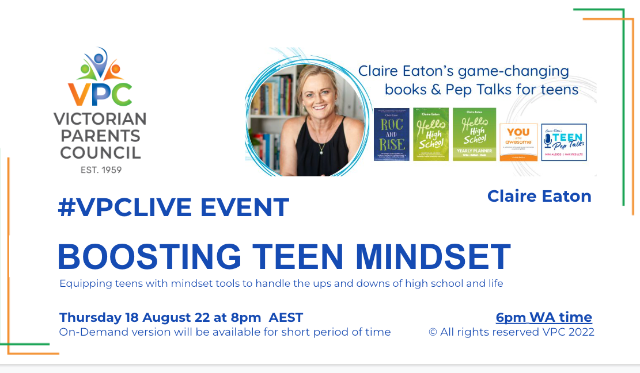 ---
7.30pm Monday, 22 August 2022 with Dr Kelly Jarvis
Dr Kelly Jarvis, a/Executive Director Senior Secondary Certificate Reform, Victorian Curriculum and Assessment Authority
Victoria's senior secondary education is changing. From 2023, the new VCE Vocational Major and Victorian Pathways Certificate will replace the current VCAL program. Students will have more education choices, a higher-quality curriculum and better workplace experiences – preparing them for further study, training at TAFE or work. Whatever your child's talent, they can now pursue it under one VCE. The Victorian Parents Council is partnering with the Victorian Curriculum and Assessment Authority and the Department of Education and Training to help you understand what these changes mean for your child's educational experience, including:
● the upcoming changes to VCE, and
● how best to keep you informed going forward.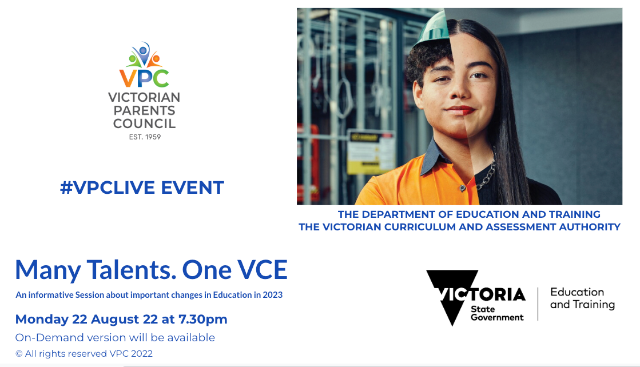 ---
7.30pm Thursday, 8 September 2022 with Dianna Daou
Academic performance coach Dianna Daou, founder of True Coaching shares her wisdom on helping High School students with their study skills.
Half the battle of preparing for exams is knowing where to start and having a clear plan and strategy. Join us for practical tips on how to keep calm and support your Year 12 students.

Next term, Dianna will be back with:
Exam Day Tips – Before, During & After
Practical tips on how to manage time and stress on exam day – before, during and after each exam. 7.30pm AEST on Thursday, 13 October 2022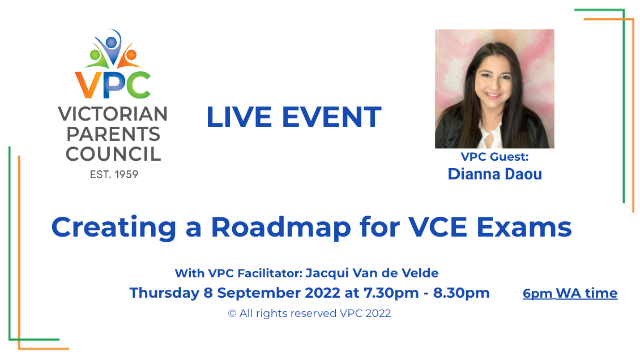 Psychologist, professional speaker, bestselling author, media commentator Evelyn Field OAM is our guest blogger this term with her piece 'Harry the Bully Blocker Goes to School'

Do you have an emerging teen in your home? What's your parenting style like?Four quick suggestions for parents living and loving being a parent of younger teens.
---
DET – Department of Education and Training
Many Talents. One VCE
Whatever your child's talent, they can pursue it under the new VCE. From next year, the VCE will include the VCE Vocational Major replacing VCAL
VRQA – Victorian Registration and Qualifications Authority
● The VRQA has published a new website to help education providers understand and meet the new Child Safe Standards that commenced on 1 July. It includes guidance from both the VRQA and Department of Education and Training to provide a single source of information.
● Parents of an apprentice or trainee can find out more about how VRQA monitors their employers to enforce the requirements of training contracts.
Victorian Institute of Teaching
● This news item speaks to the new child safe standards (incl. teacher / school obligations) and also touches on what VIT has done in the past 12 months in relation to protecting the safety and wellbeing of children and young people.
● The next Professional Practice newsletter, but as you can see, these articles are really very focussed on teacher obligations / resources.
---
VPC is diverse, inclusive, and independent.
We welcome you all to joining us.
---

We acknowledge the Traditional Owners of country throughout Australia and recognise their continuing connection to land, waters and culture. We pay our respects to their Elders past, present and emerging.