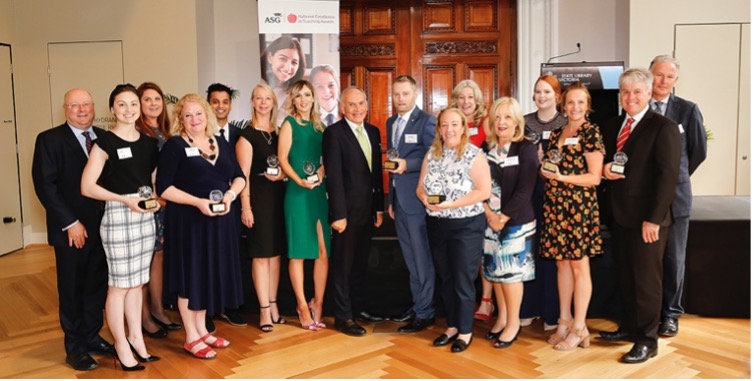 National Excellence in Teaching Awards (NEiTA) Representing Excellence in the Teaching Profession
The inaugural ASG-ACE Teachers Report Card stated that "we must work as a community to ensure the standing of the teaching profession is more valued and respected by the broader public." This is a primary goal of Australia's longest running education awards program, the National Excellence in Teaching Awards (NEiTA).
The Awards were established 28 years ago by the member-owned education-focused friendly society Australian Scholarship Group (ASG). NEiTA was first proposed as a response to negativity about teachers reflected in the headline ''Only the worst can teach''. It was designed at the outset as a community-centred awards program where teachers are nominated by key stakeholders of education, parents.
Since 1994, NEiTA has received more than 40,000 nominations for excellent and inspirational teachers from across the education system – from early childhood to primary and secondary teachers, to educators assisting children in special schools. Over 1,100 teachers in Australia and New Zealand have received NEiTA awards, and the Foundation has made around $1.2 million in professional development grants.
Special NEiTA awards acknowledge early career teachers (and support teacher retention), and outstanding mentors. There is also a Regional and Remote Teachers' Award which last year was received by an exceptional teacher in Leash Giles of Xavier Catholic College Bathurst Island, NT. (As a fourth-year teacher she developed thirty readers set on the Tiwi Islands about Tiwi people making the stories more relatable to the students. The initiative of providing culturally inclusive texts has demonstrably lifted reading ages in secondary students.)
NEiTA awards are underwritten by parents and guardians of school age children. NEiTA Foundation is a charity registered with the Australian Charities and Not-for-profits Commission (ACNC). To date NEiTA has been funded by its founding organisation ASG, now known as Futurity Investment Group, as part of the latter's commitment on behalf of its members to "advance teacher quality development and recognition".
All NEiTA award recipients become members of the NEiTA Foundation. While some have founded their own education businesses and schools, many have accelerated their teaching careers, and most have become more influential and confident with the encouragement provided by community recognition.
The 2020 and 2021 NEiTA awards recognised the achievements and efforts of teachers and educators who best overcame the unique challenges of school closures and lockdowns. This included the implementation of digital methods to enhance learnings and, importantly, supporting the wellbeing of students during a difficult year. In 2020, four of the six national secondary teacher awards went to Victorian teachers who had had to evolve the pedagogy furthest to serve students online. All Award-winners of recent years have demonstrated great agility, resilience, and collegiality.
And now properly acknowledged with their own leadership award, are the best school principals for 'outstanding stewardship of student education and welfare, and exemplary school community leadership.'
The latest NEiTA Awards ceremony was broadcast in December 2021 and is captured at neita.com. In each teachers' brief remarks there are great insights into what makes an exceptional educator.
In October, the NEiTA Foundation collaborating with the Australian College of Educators (ACE), released the 2021 Teachers Report Card. Covering all States, levels, and systems, it found that a large majority of responding teachers consider their profession rewarding, yet an increasing proportion of them now feel job dissatisfaction.
Concerningly for today's students, and parents, many teachers are actively thinking about leaving the profession.
At NEiTA we believe that education changes lives, and the best teachers transform futures. And for this they must be better recognised and celebrated by our communities – or we risk losing them.
NEiTA 2022 Awards are open now, and for nomination by anyone in the wider school community including parents, school councils and peer educators.
Nominations are open until 17 July 2022 at neita.com.
NEiTA Foundation – neita.com