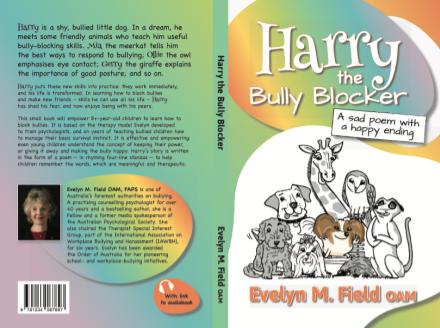 'Harry the Bully Blocker goes to school' – Evelyn M Field OAM, FAPS
I was extremely fortunate to work at the same school- where I was bullied as a student! By then I found it simple to empower bullied students! After I went into private practice, I wrote "Bully Busting" (1999, "Bully Blocking" (2007) both bestsellers, and in five other languages and hopefully "Bully Blocking at School (2013). I have written two books on workplace bullying and a chapter with Dr Patricia Ferris on the diagnosis and treatment of workplace bullying targets, (Springer 2021).
The current situation around school bullying has deteriorated! Rates of school bullying around the world have doubled, (1 in 3 students, UNESCO,) 4/5 of school bullying programs are unsuccessful, possibly due to the lack of implementation. Recent evidence indicates that students who live in caring, connected families that lack of violence, are less likely to be a target, a bully target or bully. Thus, to reduce school bullying, we need to involve families as well.
Sadly, 1 in 6 students are injured by bullying. Some experience trauma, which alters their epigenetic structure and impacts on their school life, developmental challenges and later in life. Symptoms include physical, psychological, cognitive, social and personality changes, and time will reveal pandemic scars.
In Australia, we have excellent school bullying programs (e.g. Donna Cross, Helen McGrath, Toni Noble, Ken Rigby) but their success rate is undermined by a lack of commitment from schools. The rates of workplace bullying amongst teachers and principals is also one in three! The role model provided many schools is that bullying surfaces from many directions- principal to staff, parents to teachers, students to students. Some school bullying programs make the bullying worse.
Many school bullying programs are disguised under less toxic labels, e.g., Wellbeing, Safe Schools. Many don't provide actual bully blocking methods and most offer faulty advice, based on hearsay which lack evidence. Their advice to the target includes, "Do nothing, walk away or tell the bully to stop." This is akin to informing the target that when you meet a strange dog, horse or bear, reveal you fear, anger or remain paralysed. In other words, behave in a way which threatens the bully's survival instinct, so they will attack you back. Thereby exacerbating or inflaming the situation, rather than finding a safer, neutral way to respond, using the prefrontal cortex to block their attack.
I cannot blame schools for not protecting students! Worldwide- nobody bothered to include school bullying in the DSM V (2013) although I contributed to the inclusion of workplace bullying. I wrote about school bullying trauma ( SBT) for the Australian Childhood Foundation (2016,) while recently there has been better evidence-based research (Idsoe 2021).
Sadly, most psychiatrists, paediatricians, psychologists and general practitioners don't respect clear evidence that school bullying can cause PTSD! Thus, don't expect schools to take school bullying seriously!
While researching the role of therapy for my next book, I was horrified to find little evidence worldwide. Idsøe agrees that it is a "sad" situation. Worldwide, I have connected with numerous therapists who treat bullied students with the help of their schools, families or groups. Nevertheless, is very hard to find therapy for individual students which empowers them to manage bullies on their own.
Fortunately, my practise-based therapy, numerous full day APS workshops, animal studies, together with the evidence-based research Carroll (2007) provided me with a basic, survival formula which can empower students to block bullies or assist workplace targets before they are traumatised.
"Harry the Bully Blocker" (2022) is a simple bully blocking method, based upon a real dog. A student can learn how to block bullies on their own and make friends, using best-evidence practices! You can buy this amazon little book on Amazon, Audible or www.bullying.com.au. I can also provide zoom webinars for parents on teaching this basic bully blocking method to your children, using 'Harry the Bully Blocker'. Contact me at [email protected].
About the Author
Evelyn Field OAM, FAPS is a practising psychologist, professional speaker, bestselling author, media commentator for over 45 years, and is a Fellow of the Australian Psychological Association. She was awarded the Order of Australia Medal (OAM) for her work with school and workplace bullying initiatives.
Before going into private practice, she worked for 17 years as a school-based psychologist, where she gained her original experience working with students. More recently, she has focused on workplace bullying, which has also further enriched her theoretical and practical understanding of school-bullying challenges.
Evelyn has an international reputation in treating and publishing about students and adults who have been bullied or harassed. Her goal is to assist parents and schools in teaching young people social-survival – i.e. bully-blocking – skills for life. This includes providing students with the skills to protect themselves from bullying as effectively as possible, wherever they are, regardless of what their school does (or doesn't do) or how their employer treats them after the event.
Evelyn is the author of two bestselling books, Bully Busting and Bully Blocking, now available in five languages, which have sold over 35000 copies and have been borrowed countless times from libraries. She has also written Bully Blocking at Work and Strategies for Surviving Bullying at Work, as well as two e-books and a DVD. She has written numerous other articles on bullying and social-survival skills, both at the academic and non-professional levels. "Harry the Bully Blocker" a unique, therapy poem, an audiobook, hard copy and e'Book was released April (2022).
The core of her work is the simple six-step emotional and social resilience model she developed to help students and employees acquire bully-blocking strategies to protect themselves, deal with all types of people, and create a rewarding social network. A vulnerable student threatens their peers' wellbeing, once they learn the simple skills to block bullies, they attract better friends.
Evelyn has been speaking at schools, organisations and conferences for over 40 years, has been affiliated with numerous school and workplace bullying organisations worldwide, and more recently, she is the founder of the Australian Association of Workplace Bullying Professionals (AAWBP) which provides free webinars on workplace bullying.
In addition to her regular academic training and conference presentations, she speaks on cruise ships. Such breadth of experience means Evelyn can present her work in the appropriate format to all types of audiences.
She has also presented full-day training workshops for the Australian Psychological Society for over two decades. She has presented a full-day workshop on treating targets of workplace bullying for the British Psychological Society (2017), a full-day workshop in Vietnam for the First Southeast Asia Regional Conference of Psychology, November (2017), and a full-day workshop for the Israel Psychological Association (2018).
Evelyn was Convenor of the Therapist Special Interest Group, part of the international Association on Workplace Bullying and Harassment, (IAWBH) and instigated four international workshops on diagnosis and treatment for bullied targets.
Evelyn wrote 'School Bullying Trauma, an Overview' for the Australian Childhood Foundation Conference (2016) and the Australian Psychological Society Congress (2016). She is the lead author of a chapter on 'Diagnosis and Therapy' in the Handbook of Workplace Bullying, Emotional Abuse and Harassment, (Springer, 2021).
She has not found comparable research on the treatment of bullied children! Her chapter on "Hints for Counsellors" in her next school bullying book will mirror this recent research and thereby constitute a unique and innovative project.
She has been a regular media commentator since 1990, and she has a long-established website, www.bullying.com.au and regularly posts content on LinkedIn, Facebook and WhatsApp. She can be contacted at [email protected].